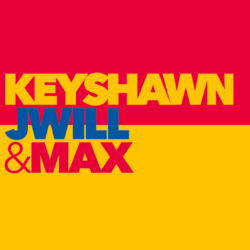 Every morning, #1 pick in the NFL Draft, Keyshawn Johnson joins #2 pick in the NBA Draft Jay Williams and Max Kellerman as they set the sports table for the day.  From the games that electrified us the night before to the stories that will catch fire during the day, Key, Jay and Max will update, inform and entertain.
The sparks will fly as these legends debate what's happening and grill the best known guests in all of sports.
MEET THE GUYS:
Super Bowl champion and three-time Pro Bowl receiver Keyshawn Johnson is an NFL analyst on ESPN's marquee, weekday football studio show NFL Live. Johnson also co-hosts ESPN Radio's weekday morning show, Keyshawn, JWill & Zubin with Jay Williams and Zubin Mehenti. The show – which airs from 6-10 a.m. ET – is also simulcast on ESPN2 (6-8 a.m.) and ESPNEWS (6-10 a.m.). Johnson also regularly appears on Get Up, First Take and other TV and radio studio programming across the network.
---
Former standout point guard Jay Williams, roundly considered one of the most prolific college basketball players in history, is an NBA analyst on ESPN's longstanding NBA pregame show NBA Countdown.
As a starter for three years at Duke, Williams won the Naismith College Player of the Year award, the John R. Wooden Award and the Oscar Robertson Trophy.
Williams averaged 19.3 points per game, 6.0 assists and 3.7 rebounds for the Blue Devils, while shooting .453 from the floor and .393 from 3-point range. He also led Duke to a 95-13 (.880) record and the 2001 NCAA National Championship. He averaged double figures as a freshman, which helped earn him the ACC Rookie of the Year award in 2000 and recognition as a first-team All-America player.
---
Max Kellerman is the co-host of ESPN Radio's signature, national morning show Keyshawn, JWill & Max, alongside Keyshawn Johnson and Jay Williams (since Sept. 2021). Kellerman also hosts ESPN's live weekday afternoon show, This Just In (since Sept. 2021) as well as his weekly boxing show, Max on Boxing on ESPN2. Prior to that he was a commentator on ESPN's First Take with Stephen A. Smith and host Molly Qerim Rose from 2016-21.